I am on the quest for black skirt, knee length, perfect for work but without being from the work wear aisle.
Someone on twitter
@Eclectic_Gina
to be precise suggested ASDA. i looked on line and spotted this one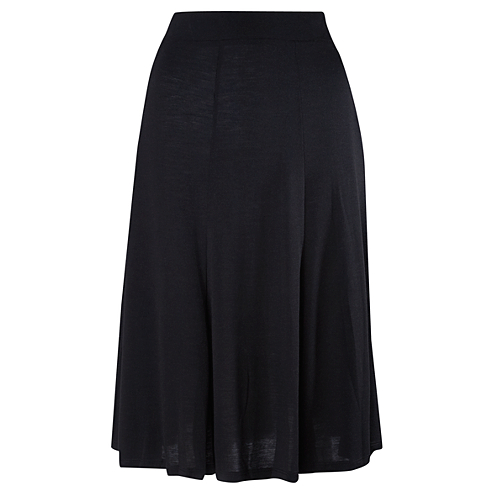 Picture is from Here
We had a little trip to asda and i tried it on in a size 22. and while i liked it it felt a bit frumpy. i didn't take a picture of the top outside the skirt. ever though it looks too tight, it felt like it was going to fall down which is never a good look.
Skirt Size 22 ASDA MODA £12
However my mum found a short length version in her size and bought it, its amazing that although its only about 2 inches shorted it made all the difference. When i went to ASDA's website to get the image it has been reduced to £8. so i think my mum is none too pleased. but she is going to go to ASDA gain for me this week and see if she can get me a short length one.
I did come home with 2 new frocks. i've seen a lot of people comment on the lack of size 24's in their local ASDA's but the one i went to had 24 in pretty much everything i looked at. however i really wish the G21 went to at least a 22. I loved loads of stuff in that range.
I was browsing the sale rail and i spotted this dress reduced to £3. it was on an 18's hanger and i thought it might be too small, trying it on and it felt a bit big but for £3 i can cope. it was only when i got home i realised it was a 24! eeek labels don't matter really but i went from feeling ecstatic that a size 18 was too big to feeling miserable that a size 24 is only a little bit big! oh well it was £3 who cares!
Another dress same situation, this one was £6 and again on an 18's hanger but is a 24. |I reck i'm 22 in ASDA and this orange dress only just fits, although it is clearly a summer dress i think with brown tights and boots it will work for Autumn as well